finding the heart of every story
Susan Diemont-Conwell
founder and creative director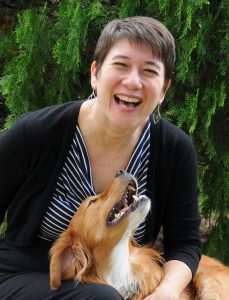 With nearly 25 years in the writing and publications biz, Susan Diemont-Conwell's story began on the Great Plains of Nebraska. With her trusted Bic ballpoint pen in hand and a yellow canary pad before her, Susan penned essay upon essay lamenting the pains of her teenage existence. After a very tortured senior-year move to Houston, Texas, Susan joined the journalism staff at her suburban high school, where the now disaffected youth continued to complain of her very spoiled upbringing in editorial writings for the school paper. At the University of Texas at Austin, Susan channeled these passionate ramblings in the form of literary commentary, and after several years of post-college wanderings, entered the world of writing and communications consulting where she has been ever since.
The still-passionate writer looks for the heart of every story assignment to pen articles that move and inspire. Though she thrives on creating human interest pieces, Susan is a self-professed science geek. She loves interviewing technical experts and translating a complicated process or technology in a way that can be understood by those who don't have a Ph.D., P.E. or an M.D. behind their name.
Over the years, Susan has written for and managed communications projects for Fortune 500 companies, nonprofits, healthcare systems, educational institutions and government agencies. Clients have included Shell, Harris County Precinct 4, Harris County Hospital District, the University of Houston, ExxonMobil and the United Way of the Texas Gulf Coast.
In 2018, Susan traded the heat and humidity of the South for the crisp, cool, tragically hip Pacific Northwest. Today, she creates amongst 75-foot-tall evergreens from her office in the woods. Susan keeps her mind clear and her body fit hiking the mountainous terrain, pulled by three overly exuberant canines, and enjoys teaching a dance fitness class at her neighborhood community center. Her favorite evenings are those spent in laughter with her husband and two teenagers at a family meal in town or, even better, around an outdoor fire.